Years back, when I had a full-time job within the not-so-hilarity-filled walls of Har­vard Law School, there was one thing I could always count on to brighten my day: 3L Jeremy Blachman's humor col­umn in the law school's stu­dent paper. (Here's one of my favorites.)
As it turned out, I was far from the only reader eagerly await­ing Jeremy's next offer­ing. Unbe­knownst to us all, even as he schlepped from class to class in Cam­bridge, he was (fic­tion­ally) thou­sands of miles away, spew­ing with­er­ing, oper­atic rants as a West Coast law firm partner—and draw­ing in thou­sands of read­ers with his "Anony­mous Lawyer" blog. (One law pro­fes­sor, who used the blog in his class, called it a "cul­tural phenomenon.")
"I was just writ­ing satire," Jeremy said, when he finally revealed him­self to the New York Times in late 2004 (and shortly there­after gar­nered a major book deal). "In a way I've been dis­ap­pointed that I've been able to pull it off. I've painted a pic­ture based on a few months of obser­va­tion and the worst things I saw, heard about, or could imag­ine about law firms, and expe­ri­enced lawyers are chim­ing in, say­ing: 'This is exactly what it feels like.'"
Some seven years later, Jeremy con­tin­ues to write, now from his home in Man­hat­tan. He's at work on a sec­ond novel, as well as a film adap­ta­tion of the first, and has writ­ten for McSweeney's and the Wall Street Jour­nal, among other venues.  (And lest there be any doubt, he hasn't lost his tal­ent for skew­er­ing the world of law firms, wit­ness this fic­tional partner's memo dat­ing from the eco­nomic down­turn.) Here, he shares some thoughts about writ­ing, both on and off the clock.
By Jeremy Blachman
Amy e-mailed me last week to ask if I'd write a guest post for Plan B Nation. In her e-mail, she said she felt bad ask­ing me to write for free. She linked to this musician's post in an online forum:
And, indeed, a quick Google search leads to an end­less num­ber of online posts telling peo­ple not to give away the milk if you want some­one to buy the cow. (Of course, many of these posts seem to either be about actual cows or the raw milk debate, but still, the point is clear.)
I would like to offer hope. In the Plan B Nation econ­omy, a lot of things that might sound silly are not in fact all that silly. In the Plan B Nation econ­omy, I believe writ­ing for free is an actual, legit­i­mate thing to do, even if you have actual, legit­i­mate bills to pay. And I don't think it's just about writ­ing. I think the more things you can do for free—the more proof of work you can throw out into the universe—the bet­ter off you'll be. After years of writ­ing things—for free and not for free—I still can't pre­dict what's going to bring atten­tion, fol­low­ers, and poten­tial oppor­tu­ni­ties, and what isn't. You don't know what is going to turn into some­thing real. (And by "real," I mean use­ful in pay­ing for actual food.)
Almost a decade ago, I was about to start law school. I was mostly going to law school to buy myself three years—albeit at an aston­ish­ingly high cost—to fig­ure out how to be a writer. I had writ­ten sketches and songs for the Prince­ton Tri­an­gle Club while an undergrad—and then, hav­ing no clue how to turn that into a job as an actual writer, I spent a year and a half work­ing in mar­ket­ing for a soft­ware com­pany. I con­tin­ued to write on the side—some tele­vi­sion scripts, a musi­cal, and some very long e-mails about work­ing in mar­ket­ing for a soft­ware company—and  con­tin­ued to have no idea what to actu­ally do with my life. To a great extent, I was too risk-averse to move to Los Ange­les, be someone's assis­tant, and hope that devel­oped into an oppor­tu­nity to be a writer. Partly because I would be ter­ri­ble at answer­ing someone's phones, and partly because I had no idea how the enter­tain­ment indus­try worked.
Hav­ing deluded myself into believ­ing that going to law school would open all sorts of doors, I decided, hey, at least I'll have a degree at the end of three years, and if I can't fig­ure out how to be a writer, I can be a lawyer. Any­one with any knowl­edge about any­thing would have tried to con­vince me this was a ter­ri­ble idea, but for­tu­nately I didn't know any lawyers, had no idea what a law firm was, and didn't want to spend $25 for the Vault Guide to Cor­po­rate Law Careers.
Before start­ing law school, I hap­pened to read an arti­cle about blog­ging. I decided that start­ing a blog would be a neat exper­i­ment to force me to write every day, and the blog would give me a place to try and turn the law school expe­ri­ence into some sort of com­edy. I had never read any blogs, and I knew noth­ing of the blog world. On August 8, 2002, hav­ing received my 1L course sched­ule in the mail, I began writ­ing.
Cut to a year and a half later. The first e-mail I'd sent with my Har­vard Law account was to the Crim­son to see if I could write for them. Grad stu­dents, they quickly informed me, were not allowed to write for the sto­ried col­lege paper. Instead, I pitched a humor col­umn to the law school paper, and started writ­ing there weekly. My blog had about 700 read­ers a day, which seemed like a nice num­ber. But it hadn't got­ten me any closer to being a writer for real. My room­mate had no idea why I was wast­ing my time writ­ing for free on the Inter­net. I could pre­tend I had a plan, but I didn't.
I had spent my 1L sum­mer work­ing for eight weeks for a small pub­lish­ing com­pany and six weeks for a polit­i­cal media firm—both jobs I had found entirely out­side the law school career ser­vices system—but I fig­ured that over my 2L sum­mer I would try out a law firm, so that at least I would be mak­ing an informed deci­sion about what to do post-law school. I inter­viewed, I got an offer, I accepted the offer. I hadn't blogged much about the inter­view expe­ri­ence, for the (sen­si­ble) fear that it would hurt my chances. On a whim, 2L spring, think­ing maybe there could be some funny blog posts to write in the voices of some of the part­ners who had inter­viewed me, I started a sec­ond blog, an anony­mous blog about an over-the-top, evil lawyer, play­ing on all the stereo­types I'd heard, and exag­ger­at­ing the details I'd seen in the inter­view process.
Now my room­mate had no idea why I wast­ing my time writ­ing two blogs for free on the Internet.
I was not entirely sure either.
The first blog ended up being a year and a half of prac­tice for the anony­mous one, which, thanks to some ben­e­fi­cial links early on, quickly grew a larger audi­ence than the blog with my name on it. For a brief moment, I found this irri­tat­ing. "Why are more peo­ple read­ing my anony­mous blog than my real one?" Eight months later, after hav­ing used my sum­mer asso­ciate expe­ri­ence to obtain more details I could grossly and unfairly exag­ger­ate, the New York Times wrote a story about "Anony­mous Lawyer," reveal­ing that I was the writer behind it. I got over 500 e-mails that week­end, includ­ing a bunch from agents and pub­lish­ers, and I ended up with a book deal to turn the blog into the Anony­mous Lawyer novel.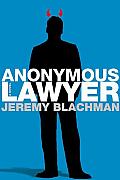 I was, of course, very lucky—I am cer­tain that I ben­e­fited a great deal from the acci­den­tal tim­ing of my blog. It hit just as blogs were becom­ing main­stream enough for pub­lish­ers to start get­ting inter­ested, but not so far along the curve that book­stores were filled with books built off blogs. I sold a tele­vi­sion pitch based on the book to Sony and NBC and worked with them for two years on a sit­com adap­ta­tion. I'm cur­rently work­ing on a film ver­sion and have other scripts I've been writ­ing, along with a sec­ond novel. All of this emerged from writ­ing I was doing for free, with­out any idea about where it would lead.
That's what's great about this Plan B Nation econ­omy. Sure, per­haps no one is going to pay you up front. But the Inter­net makes the world where peo­ple do get paid acces­si­ble to any­one, and you never know if—or when, or how—you're going to be found, and what your free work might lead to.
I still write for free because I don't know what might next hit. (I also write for pay, if any­one out there is open to pitches; feel free to e-mail me.) As it hap­pens, the most e-mails I've got­ten recently have been after pieces I've writ­ten for the humor site McSweeney's, for free. There is no shame in writ­ing for free. Amy had noth­ing to feel bad about.
Jeremy Blach­man is a free­lance writer and the author of Anony­mous Lawyer, a comic novel about cor­po­rate law. He wel­comes e-mail.