Years back, when I had a full-time job within the not-so-hilarity-filled walls of Harvard Law School, there was one thing I could always count on to brighten my day: 3L Jeremy Blachman's humor column in the law school's student paper. (Here's one of my favorites.)
As it turned out, I was far from the only reader eagerly awaiting Jeremy's next offering. Unbeknownst to us all, even as he schlepped from class to class in Cambridge, he was (fictionally) thousands of miles away, spewing withering, operatic rants as a West Coast law firm partner—and drawing in thousands of readers with his "Anonymous Lawyer" blog. (One law professor, who used the blog in his class, called it a "cultural phenomenon.")
"I was just writing satire," Jeremy said, when he finally revealed himself to the New York Times in late 2004 (and shortly thereafter garnered a major book deal). "In a way I've been disappointed that I've been able to pull it off. I've painted a picture based on a few months of observation and the worst things I saw, heard about, or could imagine about law firms, and experienced lawyers are chiming in, saying: 'This is exactly what it feels like.'"
Some seven years later, Jeremy continues to write, now from his home in Manhattan. He's at work on a second novel, as well as a film adaptation of the first, and has written for McSweeney's and the Wall Street Journal, among other venues.  (And lest there be any doubt, he hasn't lost his talent for skewering the world of law firms, witness this fictional partner's memo dating from the economic downturn.) Here, he shares some thoughts about writing, both on and off the clock.
By Jeremy Blachman
Amy e-mailed me last week to ask if I'd write a guest post for Plan B Nation. In her e-mail, she said she felt bad asking me to write for free. She linked to this musician's post in an online forum:
And, indeed, a quick Google search leads to an endless number of online posts telling people not to give away the milk if you want someone to buy the cow. (Of course, many of these posts seem to either be about actual cows or the raw milk debate, but still, the point is clear.)
I would like to offer hope. In the Plan B Nation economy, a lot of things that might sound silly are not in fact all that silly. In the Plan B Nation economy, I believe writing for free is an actual, legitimate thing to do, even if you have actual, legitimate bills to pay. And I don't think it's just about writing. I think the more things you can do for free—the more proof of work you can throw out into the universe—the better off you'll be. After years of writing things—for free and not for free—I still can't predict what's going to bring attention, followers, and potential opportunities, and what isn't. You don't know what is going to turn into something real. (And by "real," I mean useful in paying for actual food.)
Almost a decade ago, I was about to start law school. I was mostly going to law school to buy myself three years—albeit at an astonishingly high cost—to figure out how to be a writer. I had written sketches and songs for the Princeton Triangle Club while an undergrad—and then, having no clue how to turn that into a job as an actual writer, I spent a year and a half working in marketing for a software company. I continued to write on the side—some television scripts, a musical, and some very long e-mails about working in marketing for a software company—and  continued to have no idea what to actually do with my life. To a great extent, I was too risk-averse to move to Los Angeles, be someone's assistant, and hope that developed into an opportunity to be a writer. Partly because I would be terrible at answering someone's phones, and partly because I had no idea how the entertainment industry worked.
Having deluded myself into believing that going to law school would open all sorts of doors, I decided, hey, at least I'll have a degree at the end of three years, and if I can't figure out how to be a writer, I can be a lawyer. Anyone with any knowledge about anything would have tried to convince me this was a terrible idea, but fortunately I didn't know any lawyers, had no idea what a law firm was, and didn't want to spend $25 for the Vault Guide to Corporate Law Careers.
Before starting law school, I happened to read an article about blogging. I decided that starting a blog would be a neat experiment to force me to write every day, and the blog would give me a place to try and turn the law school experience into some sort of comedy. I had never read any blogs, and I knew nothing of the blog world. On August 8, 2002, having received my 1L course schedule in the mail, I began writing.
Cut to a year and a half later. The first e-mail I'd sent with my Harvard Law account was to the Crimson to see if I could write for them. Grad students, they quickly informed me, were not allowed to write for the storied college paper. Instead, I pitched a humor column to the law school paper, and started writing there weekly. My blog had about 700 readers a day, which seemed like a nice number. But it hadn't gotten me any closer to being a writer for real. My roommate had no idea why I was wasting my time writing for free on the Internet. I could pretend I had a plan, but I didn't.
I had spent my 1L summer working for eight weeks for a small publishing company and six weeks for a political media firm—both jobs I had found entirely outside the law school career services system—but I figured that over my 2L summer I would try out a law firm, so that at least I would be making an informed decision about what to do post-law school. I interviewed, I got an offer, I accepted the offer. I hadn't blogged much about the interview experience, for the (sensible) fear that it would hurt my chances. On a whim, 2L spring, thinking maybe there could be some funny blog posts to write in the voices of some of the partners who had interviewed me, I started a second blog, an anonymous blog about an over-the-top, evil lawyer, playing on all the stereotypes I'd heard, and exaggerating the details I'd seen in the interview process.
Now my roommate had no idea why I wasting my time writing two blogs for free on the Internet.
I was not entirely sure either.
The first blog ended up being a year and a half of practice for the anonymous one, which, thanks to some beneficial links early on, quickly grew a larger audience than the blog with my name on it. For a brief moment, I found this irritating. "Why are more people reading my anonymous blog than my real one?" Eight months later, after having used my summer associate experience to obtain more details I could grossly and unfairly exaggerate, the New York Times wrote a story about "Anonymous Lawyer," revealing that I was the writer behind it. I got over 500 e-mails that weekend, including a bunch from agents and publishers, and I ended up with a book deal to turn the blog into the Anonymous Lawyer novel.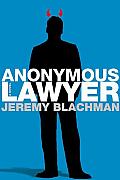 I was, of course, very lucky—I am certain that I benefited a great deal from the accidental timing of my blog. It hit just as blogs were becoming mainstream enough for publishers to start getting interested, but not so far along the curve that bookstores were filled with books built off blogs. I sold a television pitch based on the book to Sony and NBC and worked with them for two years on a sitcom adaptation. I'm currently working on a film version and have other scripts I've been writing, along with a second novel. All of this emerged from writing I was doing for free, without any idea about where it would lead.
That's what's great about this Plan B Nation economy. Sure, perhaps no one is going to pay you up front. But the Internet makes the world where people do get paid accessible to anyone, and you never know if—or when, or how—you're going to be found, and what your free work might lead to.
I still write for free because I don't know what might next hit. (I also write for pay, if anyone out there is open to pitches; feel free to e-mail me.) As it happens, the most e-mails I've gotten recently have been after pieces I've written for the humor site McSweeney's, for free. There is no shame in writing for free. Amy had nothing to feel bad about.
Jeremy Blachman is a freelance writer and the author of Anonymous Lawyer, a comic novel about corporate law. He welcomes e-mail.